Johnny Coles: An Annotated Discography
By
His life and music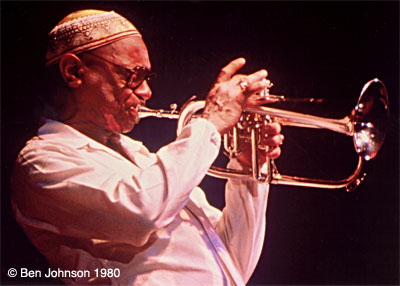 Used by permission. http://www.benjohnsonjazzphotos.com.
Photo taken 1980, Atlantic City Jazz Festival.
John David Coles was born July 3, 1926 in Trenton, NJ, and raised in Philadelphia. Like many of his Philadelphia jazz contemporaries, he studied music at Mastbaum Vocational School there, but was basically a self-taught musician who began to hone his craft in U.S. Army bands during World War II. In the immediate post-war period, he was an important musician in the Philadelphia bebop community, and was a member of Jimmy Heath's big band. In an interview with A. B. Spellman (http://www.nea.gov/national/jazz/heath_interview.html -- since removed from the website), Heath said of this band, "So I had Trane in there, Benny Golson, Johnny Coles, Specs Wright, Nelson Boyd." When asked what the scene was like, where they worked and rehearsed, Heath said, "We used to go to each other's homes. Johnny Coles' mother was very gracious to let us come and have jam sessions at her home. My mother was very gracious, and we had jam sessions in the Heath home. My mother let me set up the whole big band in the living room and all the cats would be out on the street on a corner, looking in the window and listening to us. . .And then there were the clubs. There was a place called the Woodbine Club that Coltrane lived near. It was an after-hour place. We'd go there and have sessions."
Whether because of circumstances or choice, Coles was a sideman throughout his career, working as a leader only occasionally on casual dates, and he made only five recordings as a leader, the last as a co-leader with Frank Wess. Coles' professional experience began, as it did with many jazz musicians, with r&b bands-Eddie "Cleanhead" Vinson (1948-1951), a band which also included Coltrane and Red Garland; Bullmoose Jackson (1952) and Earl Bostic (1955-1956). Also in the Jackson band were Tadd Dameron, Golson and Jymie Merritt, and in the early 50s Coles worked in a band led by Dameron that included Golson, Philly Joe Jones and Clifford Brown that gigged in Philadelphia and Atlantic City, NJ. His first major jazz gig was as a member of James Moody's band (1956-1958), and he gained his first major exposure in Gil Evans' working band and on Evans recordings (1958-1964). He won Downbeat's New Star award in 1964. From February to April of 1964 Coles was a member of perhaps Charles Mingus's finest working group with Eric Dolphy, Clifford Jordan, Jaki Byard and Dannie Richmond. Never recorded in a studio, the band is heard in concerts at Cornell University, Town Hall, and an April tour of Europe. Sadly, Coles collapsed on stage in Paris from a perforated stomach ulcer, was hospitalized, and the band finished the tour as a quintet, and he never rejoined Mingus.
Coles was a member of Herbie Hancock's Sextet (1968-1969), but left to join Ray Charles' Orchestra (1969-1971). As Steve Voce, in his Coles obituary of January 2, 1998, noted, Coles said of his decision to join Charles, "a man must eat." From 1971-1974, Coles was on Duke Ellington's band, but for unknown reasons, Ellington wrote no material that featured Coles--odd considering Coles' unique sound and Ellington's predilection for incorporating the individual sounds of his players into his compositions. Perhaps in his last years Ellington was reluctant to break out from what he already knew and did. In the four years with Ellington, his only features were a head arrangement of How High the Moon and briefly in 71-72, Goof, which originally had Ellington as the soloist. He returned to Charles (1974-1976) and recorded one masterpiece with him, Am I Blue?, from the Japan concert tour. Briefly, in 1976, he was a member of Art Blakey's Jazz Messengers, but did not record with them. In the 80s Coles was a member of the Tadd Dameron repertory band, Dameronia (1981-1982), an occasional participant in the Mingus Dynasty repertory bands, and in 1985-86, a member of the posthumous Count Basie Orchestra under the direction of either Freddy Green or Thad Jones. He lived in San Francisco in the late 80s, early 90s, but illness forced him to move back to Philadelphia. He died there December 21, 1997 of stomach cancer.
…I'm more of a melancholy player. - Johnny Coles, in an interview with Steve Voce.
In a 1973 interview with Steve Voce, Coles named Charlie Shavers, Roy Eldridge, Dizzy Gillespie and Miles Davis as players who had influenced him. Others have heard his stylistic origins in Freddie Webster, perhaps the most obscure influential musician in the history of jazz (what we know of him today comes from three quintet sides with Frank Socolow and Bud Powell, four sides with Sarah Vaughan and Tadd Dameron, a solo on a Miss Rhapsody 78, and an almost operatic solo on Yesterdays from a Jimmy Lunceford AFRS broadcast). Webster had a wistful and poignant style which was the very quintessence of what Stanley Crouch has dubbed the "wounded lyricism" of bebop, and his sound permeates almost all the trumpet players that followed to varying degrees, none more than Miles Davis and Johnny Coles (and Webster's sound became part of the orchestral sound of bebop through fellow-Clevelander, Tadd Dameron). Nat Hentoff noted this in the notes to Coles' 1971 LP, Katumbo: "Coles is not only an intensely personal, thoughtful and penetrating player but he is also part of the select lineage of quintessentially lyrical jazz trumpet players. It is a line of disciplined romantics that includes Miles Davis, Freddie Webster. . ."
Coles often said that Miles Davis was the trumpet player he most admired. Steve Voce, in Coles' obituary wrote: "Johnny Coles would perhaps have been regarded as one of the jazz greats had he not been so close to Miles Davis in sound and style. Both Coles and Davis had the ability to express themselves powerfully using a minimal number of notes. The similarities clouded the fact that Coles' inventions were completely original and that he barely borrowed." And they both had their own distinctive cries and a certain dryness of sound. Gil Evans was probably Coles' greatest champion and the first to fully utilize his talent. One does not think of Evans, like Duke Ellington, writing and arranging with the sounds of the men in his orchestra in mind, with the exception of his notable collaborations with Davis and the pieces that featured Coles-it is hard to imagine the compositions Sunken Treasure or Zee Zee, or the arrangements of Django and Davenport Blues without Coles. Gil wrote the following about Coles in the liner notes to the Artists House LP, Where Flamingos Fly: "Johnny Coles is right in the be-bop era, part of the be-bop happenings and all that, but at the same time he had a great lyric sense and the main reason he could indulge in it is because he's got a great tone. He can hold a tone. When you can hold a tone, then you can take advantage of it. There's hardly anyone else who can do what he can do."
On a personal note, I first became aware of Johnny Coles from his solo on Willow Tree on New Bottle, Old Wine, the first Evans recording for World Pacific. But it was his solo on Django, from the next Evans album, which made me a dedicated fan. I remember picking up the tone arm on my record player and playing it a second time immediately after the first listening, so struck was I by his solo there. It was as if I had been waiting all my life to hear that solo, an experience I have had only a few times (Lester Young's opening solo on Taxi War Dance is another). I was privileged to hear Johnny Coles four times in person, although never with the Evans band (my one opportunity, a Saturday night during Christmas vacation from college in 60-61 when Evans and the band were appearing at the Jazz Gallery in New York, was wiped out by a massive snow storm). I did get to hear him with the Mingus sextet in 1964 at the Five Spot sometime between the Cornell concert and the Town Hall concert, and it remains to this day the most exciting and rewarding musical event I have ever attended. I also saw him with Dameronia at Lush Life, a second-story Greenwich Village club, in 1982; with Buck Hill at the New Haven Lounge in Baltimore, shortly after the release of the CD they did together on Muse; and just a few years before he died, at a casual with a local trio in a Washington DC club. I got to chat briefly with him on the last three occasions and found him to be a gracious, soft-spoken man, who was genuinely happy to know that he had fans, and proud that his accomplishments were admired.